Justin Bieber Comforted By Friends After Selena Gomez Hospitalization
Shortly after TMZ revealed that Selena Gomez had entered a mental health facility due to a reported "emotional breakdown," a despondent looking Justin Bieber was seen being comforted by some friends from church in Los Angeles. Justin attended a service on Wednesday evening (Oct. 10) and before heading home his friends made sure to give the 24-year-old singer comforting hugs.
Justin and Selena, who most recently separated in March 2018, both attend Hillsong Church. Hailey Baldwin - also a member of Hillsong - was not with Justin at the time.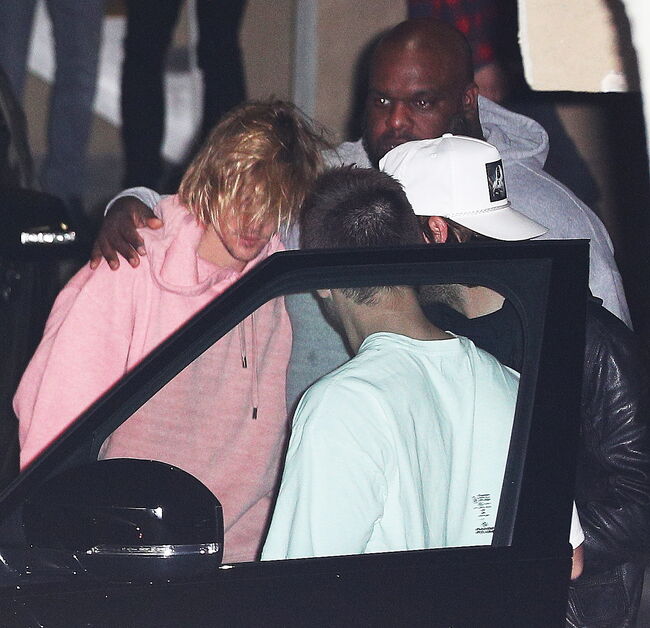 According to TMZ's report, Selena entered an East Coast mental health facility following two hospitalizations in as many weeks. Per their sources, TMZ claims that the 26-year-old actress was "despondent and emotional over an alarmingly low white blood cell count in the wake of her kidney transplant." When she wasn't allowed to leave the hospital, she reportedly had an "emotional breakdown." Selena is supposedly receiving Dialectical Behavior Therapy (DBT), which is used as treatment for mental health conditions.
Selena has been vocal about her struggle with her mental health, recently telling fans in an Instagram Live Q&A that "depression was my life for five years." Back in February, Selena checked in to a rehab facility for a mental health "tune-up," with her reps telling People that Selena "felt like she needed to get away and focus on herself with no distractions. She came back feeling very empowered." The statement even said that Selena wanted "to go again later this year."
According to People's source, Selena "has had a tough few weeks and the panic attack in the hospital was the tipping point." Following the panic attack, Selena "realized she needed to seek additional help for her ongoing emotional issues." The 'Wolves' singer is "surrounded by close family and has a lot of support. She's doing better now and is seeking treatment on the East Coast."
Photo: Getty