Alabama May Actually Approve a Lottery This Time
Driving across state lines to buy lottery tickets is an Alabama ritual whenever there's a big Powerball or Mega Millions jackpot. While our iHeartRadio office is based in Alabama, we have several co-workers who live in Florida. Whenever the jackpot gets big enough, they're often asked to pick up lottery tickets for those who'd like to play. We do this, of course, because Alabama is one of very few U.S. states to ban state lotteries. The others are Alaska, Hawai'i, Utah, and Nevada. It's almost hard to believe that Nevada doesn't have a lottery, but you can basically walk into any convenience store in that state and play slots -- so there's that.
Mississippi used to be on the "no lottery" list, but last year, lawmakers approved a brand new lottery to fund transportation projects. The state is expected to start selling tickets late in 2019.
Now, it appears that Alabama may be the next state to add a lottery. State senator Jim McLendon (R-St. Clair Springs) is introducing two bills: one that would make a lottery legal, and another that would allocate the funds from it. He's proposing a 50/50 split, with half for education and half for the General Fund. He spoke with Cassie Fambro of NBC-15 and said he wants to put the lottery to a public vote, allowing Alabamians to make the decision.
The lottery has been an issue for years and probably will remain an issue until it happens; or unless states start getting rid of their lotteries, which seems unlikely. Governor Don Siegelman put the measure before voters in 1999, but it was defeated. In 2016, Senator McLendon tried to get the lottery put to a vote; but it died in special session. According to al.com, lottery bills are proposed annually and mostly don't go anywhere.
So what's different this time? Two things, and both involve Mississippi.
When Mississippi lottery tickets go on sale later this year, Alabama will be completely surrounded by lottery states. People are already driving to Tennessee, Georgia, and Florida for lottery tickets. And soon, that drive will also lead west into Mississippi. Unless you live in the center of the state (hello, Montgomery), it's pretty easy for an Alabamian to get a lottery ticket. That's money the Alabama legislature would almost certainly like to prevent from leaving the state. And everyday Alabamians who'd like a ticket would prefer to run down to the Circle K, and not to a neighboring state.
The other issue is the recently passed gas tax. Alabama will raise its gas tax by 10 cents over the next three years; and while that's still lower than the tax in most surrounding states, one notable exception is Mississippi. Their new lottery will fund transportation projects, which means that Mississippi legislators essentially passed a lottery in lieu of raising the state's gas tax. We saw plenty of people asking for a lottery in Alabama to fund roads and infrastructure, but they got a tax instead. So the next tax increase won't be so easy, especially when Mississippi is spending lottery money on roads. Rather than pay another new tax, or higher tax, Alabamians would probably rather raise revenue by letting the state sell lottery tickets to those who want them.
So today, it seems we're closer than ever to passing a lottery bill in Alabama.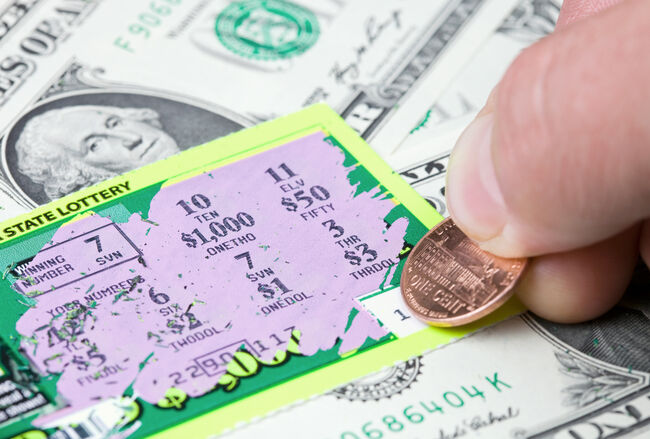 This doesn't mean a lottery will make it out of the Alabama legislature, nor does it mean it would pass at the polls. There are plenty of arguments and entities who'd work tirelessly against legalizing an Alabama lottery. These arguments come from both the left and the right on the political spectrum, and they could very well combine to kill the idea yet again.
Remember for a moment that Nevada is one of the only other states without a lottery. That's due to fierce opposition from casinos, who'd rather not have competition from a state-run competitor. There's plenty of opposition on religious grounds, as well. Finally, there are the arguments about who exactly is buying lottery tickets. The short answer is that lotteries prey on people who need their money the most; those who should not be spending what little they have on what Vox called a "Hail Mary"
If Alabama gets a lottery, it will be great for our business at iHeartRadio. We make our money by selling advertising, and lotteries spend a lot of money on advertising. On a personal level, it's never really been my thing. I enjoy buying a ticket for a big jackpot, if a store is handy, but I'm not going out of my way. If Alabama gets a lottery, I'll buy tickets for big jackpots a bit more often, but not a lot more. I'm also not big on casinos. I admittedly love the casinos in Mississippi (and Nevada), but not for gambling. I like them because they are attached to nice hotels, with good restaurants and spas. And I'm big fan of a nice hotel. That said, I do believe we should think about the people who'll buy lottery tickets. We should understand that many will buy tickets because they need to win, not because it's fun to play and they'd like to win. I tend to believe people should be free to buy a ticket if they want, or not buy if they don't want. But I'd also like lottery legislation to include public education about the risks associated with lotteries, and their potential for addiction.