Man Apologizes to Hotel After Seagull Incident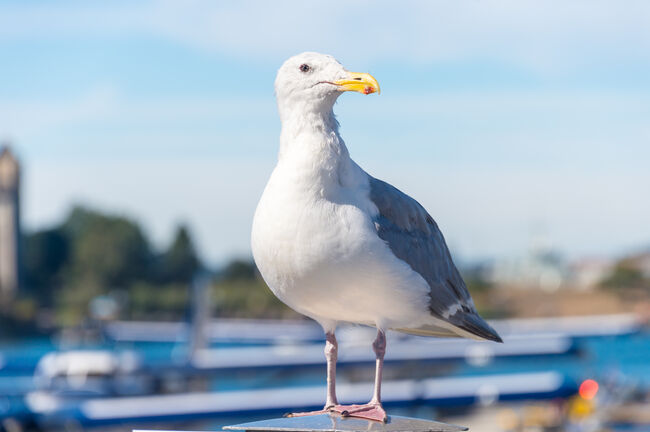 Every now and then, we'll see some people at the beach feeding the seagulls. Not many people do it, because most of us know better than to attract a hoard of hungry birds who will eat and then almost simultaneously poop. And we've all heard stories of seagulls pooping on the beach goers below. (Hopefully, not first hand accounts).
This is a story about a flock of seagulls (not the 80s band) and some delicious pepperoni. Unfortunately, no beach was involved. Just a luxury waterfront hotel in Victoria, British Columbia.
The Fairmont Empress Hotel is Victoria's grand dame. When tourists visit that city, it's often high on the list of places they'd like to stay; or at least to take part in their signature high tea each afternoon. It's classic, luxurious, and fancy. And it's the hotel that banned Nick Burchill for life after seagulls trashed his room.
Seriously.
It started innocently enough. Nick had traveled out to Victoria with a gift for his Navy buddies. They'd asked for some Brothers Pepperoni from Halifax, Nova Scotia. It's a local favorite in Atlantic Canada. And something you couldn't normally buy 3000 miles away in Victoria. So he brought a suitcase of the stuff to ensure everyone got some of this pepperoni treat.
Long story short, Nick really didn't want the pepperoni to go bad. And at the time, the Empress Hotel didn't have a fridge in his room. So his bright idea was to simply open the windows and let the cool April air serve as his refrigeration.
I won't lie, it doesn't seem like a terrible idea. Who among us hasn't used the cool air to keep things... well, cool? But the problem for Nick was that his fancy room at a fancy hotel fronted the harbor. And harbors usually mean a few seagulls will be close at hand.
So after Nick laid out the pepperoni, he went for a walk. When he came back, the seagulls had invaded the room. I'll let Nick tell the story from here:
In case you were wondering, Brothers' TNT Pepperoni does NASTY things to a seagull's digestive system. As you would expect, the room was covered in seagull crap. What I did not realize until then was that Seagulls also drool. Especially when they eat pepperoni.

I'm sure you have an image in your head. Now remember that I have just walked into the room and startled all of these birds. They immediately started flying around and crashing into things as they desperately tried to leave the room through the small opening by which they had entered.

Less composed seagulls are attempting to leave through the other CLOSED windows. The result was a tornado of seagull excrement, feathers, pepperoni chunks and fairly large birds whipping around the room. The lamps were falling. The curtains were trashed. The coffee tray was just disgusting.

I waded through the birds and opened the remaining windows. Most of the gulls left immediately. One tried to re-enter the room to grab another piece of pepperoni and in my agitated state, I took off one of my shoes and threw it at him.

Both the gull and the shoe went out the window.
There's actually a lot more to this story in his Facebook post, including Nick's attempt to dry a shoe that ended up knocking out the power in his room. And a seagull wrapped in a towel that crash landed on tourists headed to high tea. (Nick says the seagull was unharmed).
It wasn't long after that Nick was informed he'd been banned for life. Whether from the hotel itself or the entire Fairmont chain, we can only speculate.
Fast forward to 2018. Over the Easter weekend, Nick returned to Victoria with an apology and request to have his lifetime ban rescinded. He also brought a peace offering -- even more of that Brothers Pepperoni that was at the center of the whole incident. There are still people on staff who remember what happened on that cool day in 2001, as confirmed by the local Victoria Times Colonist. So he's not making this up! And really, could anyone make up such a crazy story?
Good news, enough time has passed and Nick will be allowed to stay at the Empress once again. He thinks his gift of pepperoni might have had something to do with it. I'm guessing.... not really.

Mason
Want to know more about Mason? Get their official bio, social pages & articles on Mix 99.9!
Read more